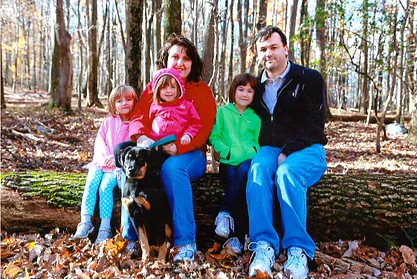 Jason Becker, Business Manager
Dr. Deanna Becker was raised in Hagerstown, Maryland and graduated from St. Maria Goretti High School. In 1995, she graduated from Western Maryland College (now McDaniel College) in Westminster, MD with a degree in Biology. For her first four years after college, Dr. Becker worked full-time as a molecular biologist doing HIV research in Gaithersburg, MD and part-time in the evenings as a Veterinary Technician. Before applying to veterinary school, Dr. Becker worked another two years as a full-time Veterinary Technician. Dr. Becker graduated from the Virginia-Maryland Regional College of Veterinary Medicine in 2005. Dr. Becker was employed for almost seven years at the Waynesboro Veterinary Clinic in Waynesboro, PA. She was then employed by Confederate Woods Veterinary Hospital in Gettysburg, PA for almost six years. She is skilled in small animal medicine and surgery and has a unique interest in avian medicine and surgery. She also has a special interest in orthopedic surgery and geriatric medicine.
She has been married to her high school sweetheart since 2000. Jason joined NorthPaws full time as our Business Manager in 2022. They share their home with their three daughters, Isabelle, Addison, and Emma. They also have some furry and feathered kids including a dog, a cat, 2 macaws, a parakeet, a guinea pig, a bearded dragon, and some fish.
In her spare time, she likes to read, spend time with her kids and spend time with her parents and in-laws who all live locally. She can also occasionally be found hanging out at the East Coast Exotic Animal Rescue in Fairfield, PA where she is honored to be a small part of their medical team. At East Coast, she has been blessed to work with their unique rescued resident animals like prairie dogs, silver foxes, coatimundis, a mountain lion and (her favorite) their parrots.
Dr. Becker says that she couldn't be happier to be practicing veterinary medicine (her childhood dream) in her hometown. It's great to see so many familiar and new faces when clients and pets walk through the door of the hospital each day! And the best part has been getting to work with the amazing, skilled and compassionate technicians, receptionists and assistants that make up the North Paws Team!