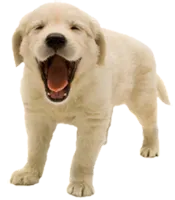 "As veterinary professionals, we know that visits to our hospitals are declining—and we know that the stress and anxiety associated with taking a pet to the veterinarian is a significant reason why. Fear leads to trauma for our patients, and as a result, pet owners visit their veterinarian less often or not at all, instead opting to seek advice and products from other sources.
Fortunately, there is a solution that can resolve this downward trend, restore trust in veterinarians as the true pet health experts, and most importantly, reduce feelings of stress, resulting in a better experience for all involved, including pets, owners, and veterinary health care teams: Fear Free℠ veterinary visits." -www.fearfreepets.com
Dr. Becker is a Fear Free Certified Professional and all of our staff at NorthPaws Animal Hospital are dedicated to providing a fear free experience for your pets. What makes a fear free veterinary visit different?
The wait is over. We will do our best to minimize the time you spend in our waiting room and have an exam room ready for you as quickly as possible. If your pet does not get along with other animals, let us know ahead of time or as soon as you arrive and we will have a room waiting for your pet as soon as you come through our doors. For our feline friends, we have a basket of soft, clean towels in our waiting area that can be used to cover their carriers to help them feel safe and secure.
No more cold, metal exam tables. Our exam tables are covered with a yoga mat and then a clean towel to make it comfortable and to provide traction. Is your pet dealing with arthritis or an orthopedic injury? Let us know ahead of time and we can have yoga mats leading across the waiting room straight into an exam room so your pet won't have to worry about slipping.
Relaxation is key. If treats and comfy towels aren't enough to get your pet feeling zen, pheromones may have the calming effect they need. We use safe pheromone products like Feliway and Adaptil sprays and diffusers to mimic your pet's natural appeasing pheromones.
Bring your pet hungry! Our staff will be offering your pet treats throughout the appointment to distract them and reward them for their cooperation. Special treats like peanut butter can make stressful treatments like nail trims go smoothly and ensure that they'll be happy to come see us again! We always ask but please let us know if your pet has any allergies or special dietary requirements.